Did you know that 32% of Commercial Truck Trader consumers want to hear back within an hour of submitting a lead? Advancements in technology have made it possible to receive information immediately with just a few clicks, and through our Chat feature you can easily start providing consumers with the answers they need, right as they need it.
This feature is an effective way to bridge the communication gap with consumers, allowing you to:
Manage messages in one convenient place: Chat is managed in TraderTraxx, where you are already receiving lead information, managing inventory, and accessing reporting.

Connect instantly with consumers & convert leads: Engage with potential buyers in real-time to collect key information.

Meet the communication demands of buyers: You can satisfy the needs of customers quickly, as 79% of consumers prefer live chats because they offer instant responses.*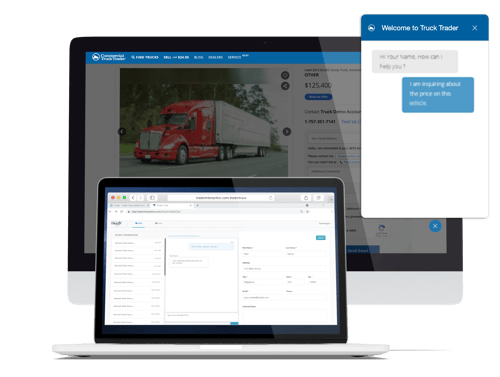 *https://99firms.com/blog/live-chat-statistics/#gref
Want to learn more about building connections with consumers through Live Chat?
Complete this form to be contacted about packages and pricing.